01
02
03
04
05
06
07
08
09
10
11
12
2006
01
02
03
04
05
06
07
08
09
10
11
12
2007
01
02
03
04
05
06
07
08
09
10
11
12
2008
01
02
03
04
05
06
07
08
09
10
11
12
2009
01
02
03
04
05
06
07
08
09
10
11
12
2010
01
02
03
04
05
06
07
08
09
10
11
12
2011
01
02
03
04
05
06
07
08
09
10
11
12
2015
01
02
03
04
05
06
07
08
09
10
11
12
2016
01
02
03
04
05
06
07
08
09
10
11
12
2017
01
02
03
04
05
06
07
08
09
10
11
12
2018
01
02
03
04
05
06
07
08
09
10
11
12
2019
01
02
03
04
05
06
07
08
09
10
11
12
2020
01
02
03
04
05
06
07
08
09
10
11
12
2021
Octobre 2012
31.10.2012 - Alcohol
I met this lady while waiting at the local laundrette for the laundry to dry. She was drinking from a can of cheap lager and telling me about the beatings she had suffered in her house at the hands of 'acquaintances'. In the past weeks this had happened three times. She pointed at her nearly vanished black eye, saying: "And I never did anything".

After her visit to the laundrette she was going to the police to get money from the 'victim fund'. Originally from Berlin she moved to Amsterdam 15 years ago. Still, a strong german accent accompanied her alcohol flavoured words. In half a years time she was going to complete a three-year degree to become a real estate broker.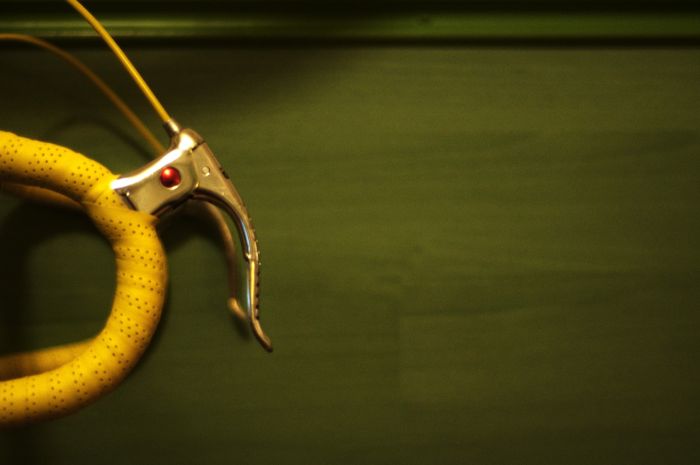 30.10.2012 - Bye bye daisy
Taking old bicycle frames and turning them over is my passion. Protruding its handle bar in this picture is 'Yoi' which means 'good' in Japanese. Originally the bike is a Koga-Miyata made from Japanese steel.
29.10.2012 - Harbour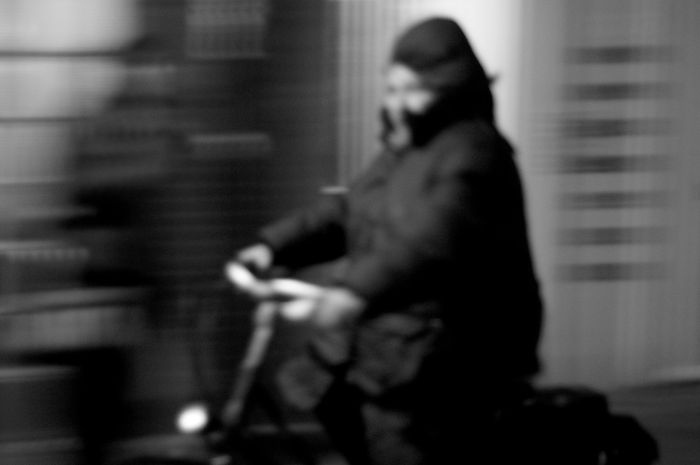 28.10.2012 - Autumn bashing
We set our clocks back in Holland in the autumn. It gets dark earlier. Winds pick up and rain is falling incessantly. Time to get out the thick warm coats. Like this lady cycling off in the dark wet night.
27.10.2012 - Scary shit
My neighbour was about to trash his old gloves. Luckily his wife thought I could maybe use them in the garden. I love them. Nicely made of leather, I wear them all around. But not in the garden. In this picture I am waiting for the ferry to arrive, looking at my new glove while the sun is playing with them. I like the contrast in this picture and the texture of the concrete road in front of me.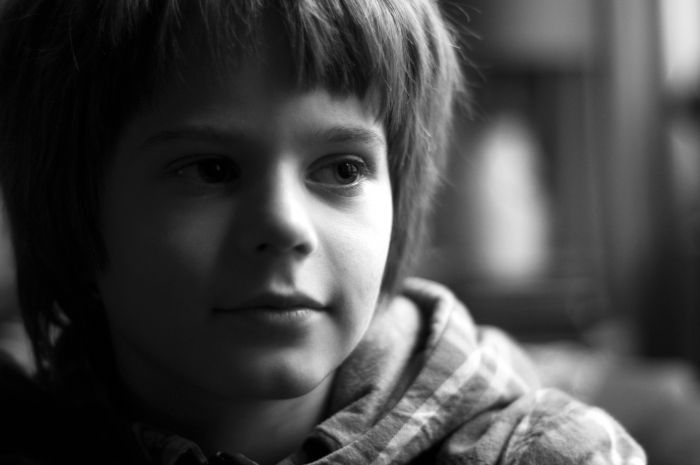 26.10.2012 - Luiz
I am his godfather. He is 10 years of age holding a wish to become an actor in the movies. In the week to come he is going to enroll with a casting agency and for this he needs a picture. "You can do it, you are a photographer", he said. So I did.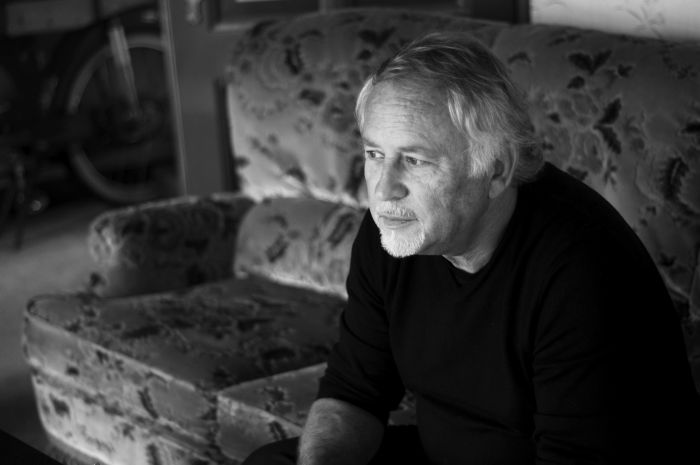 25.10.2012 - Corwim
In 1984 he closed his bicycle shop which his family had run for generations in a small town near Amsterdam. He was done with it. More than a bicycle repairman he was more of an artist. Being first in bringing the most beautiful frames from Italy to the serious minded Dutch market.

After closing shop he began restoring vintage Italian mopeds. And expanding his collection of records and paraphernalia from the fifties. Like Vargas' pinups and dinky toys for example.

"I have to show you this", he said, while he took me to a glass display closet. It was filled with what looked like stones. But turned out to be tools dating back thousands of years. His eyes shimmered when he held a hammer-like rock which, he said, was used by a person 50.000 years earlier. Each year he would travel to France to plough through a farmer's field morning to evening for every day searching for more rocky tools. Without the farmer's consent he had to operate on the sly.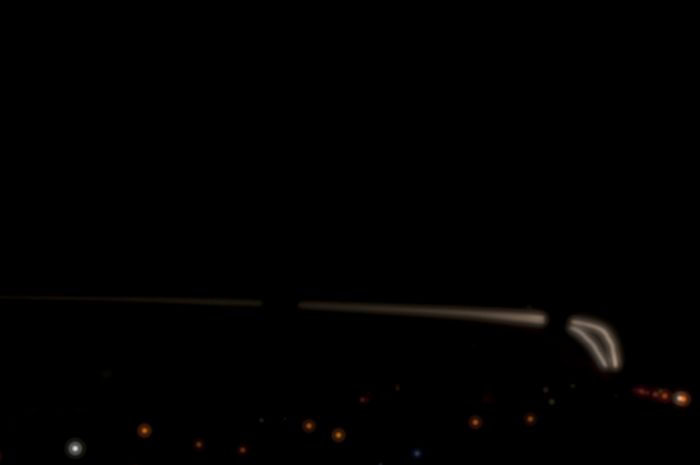 24.10.2012 - Where I live
I went out of the house with my D90 fitted with a pinhole cap. Near to my house is an industrial area with a long road going past. My exposure is 3 minutes, a truck drives by, lights emit from a factory. I don't like the picture so I turned it upside down.
23.10.2012 - Street jigsaw
Straight lines, bordered areas, order, glass and reflections are elements which I like to bring into my pictures. With an interruption like the cyclist above.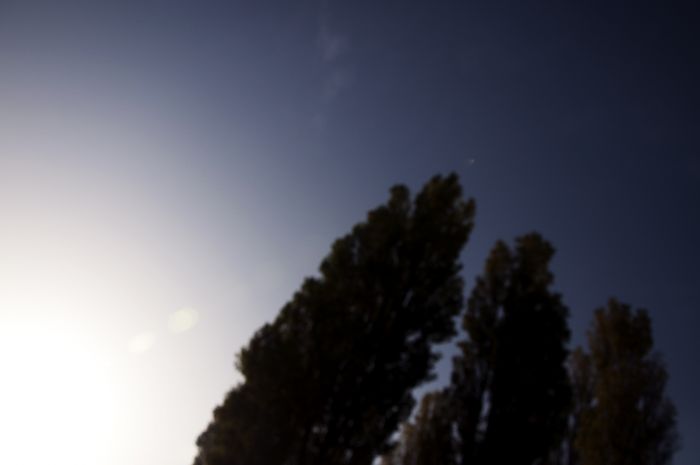 22.10.2012 - sky reaching
These poplars are boarding my house. Actually they separate my backyard from a Jewish graveyard. When the wind blows their leaves make a very peaceful sound. Those trees are standing where the sun sets.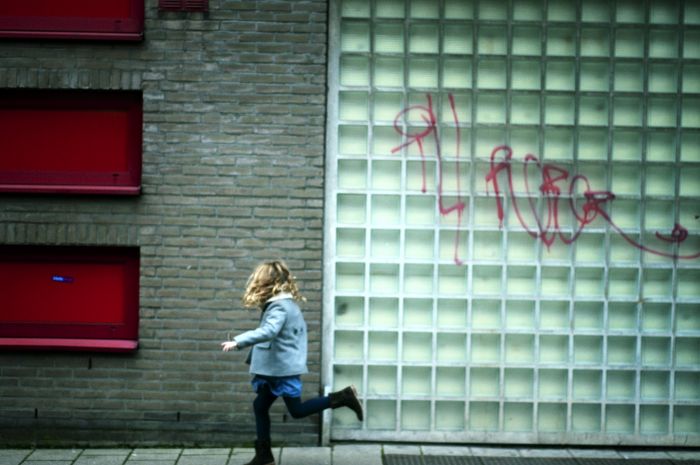 21.10.2012 - Mama follows
I particularly liked the patterns and colours. Suddenly this little girl came running down the road all happy and joyful. Her mother and baby brother following close behind.
20.10.2012 - Dark light
Maybe this one is too simple. Simplicity rules sometimes. Photography is about light. So there you go. I took one of the light.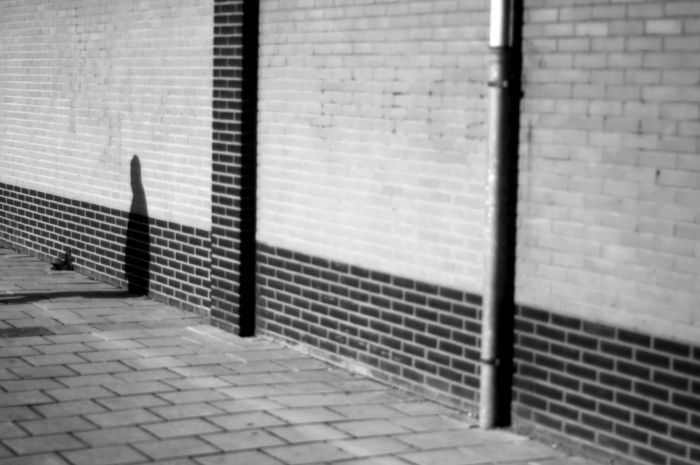 19.10.2012 - Man shadowing a wall
The man was shadowing this wall and I was shadowing this man. I had to walk fast to keep up with him. Juggling my camera in one hand, a bag in the other. Using the autofocus - which is normally turned off - I managed to capture him while he was making a nice pattern with the rain pipe, middle wallpiece and all the other bricks.
18.10.2012 - Where one can hide
17.10.2012 - At the end of the day
This is my girl. We had spend the day relaxing in a spa. It is late in the evening. We are on our way home and hungry. So we stop at a highway restaurant. I took this picture riding the escalator. The restaurant closed its doors just when we got there. We were too late.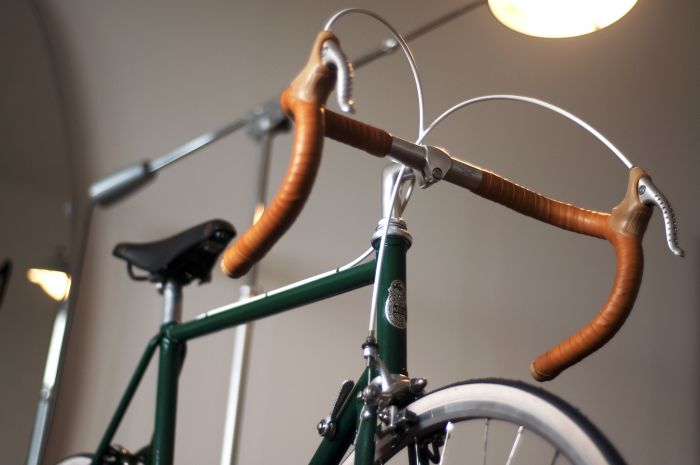 16.10.2012 - Neighbouring design
I give vintage bicycles a new design. It is my neighbour who taught me how to repair them. He is 70 years old. My enthousiasm with the bikes made him to fix one up himself. This is the result.
15.10.2012 - Flat
My attic is my workshop where I fix my bikes. This window gives me very nice natural light.
14.10.2012 - Suzanna
It is Sunday and we travelled to a town of my youth. I wanted to show her a local delicacy, pastry filled with cream and topped with chocolate. The bakery was closed that day. On the square was a snackbar. We ordered fries from this Egyptian man who married a Dutch lady and had lived in Holland for many years. Business was hard, he told us, with rents very high. Other people arrived on their bikes to eat fries with mayonnaise. They looked happy telling us the Egyptian made the best fries.
13.10.2012 - Waiting to be seen
It is a grey and rainy day while I sit at the station waiting for a train that is delayed. Right in front of me is this grey flat.
12.10.2012 - Chained to the past
I dislike the feeling this picture gives me and I dislike the picture itself. It is the chain hanging from my bike to prevent it from being stolen. When I look at it I feel the air pressed out of my chest.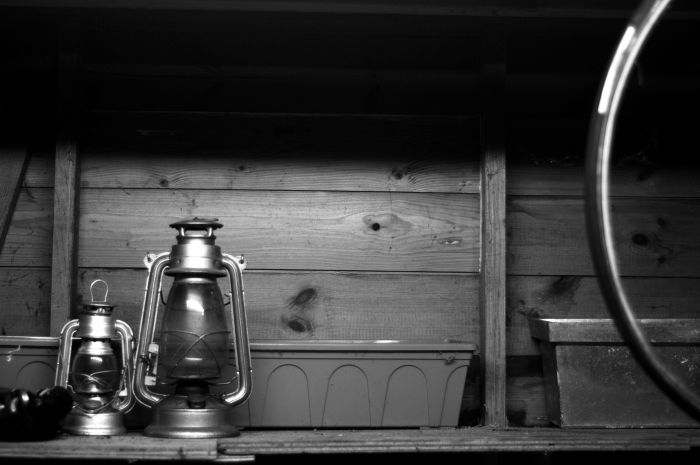 11.10.2012 - Manana (tomorrow)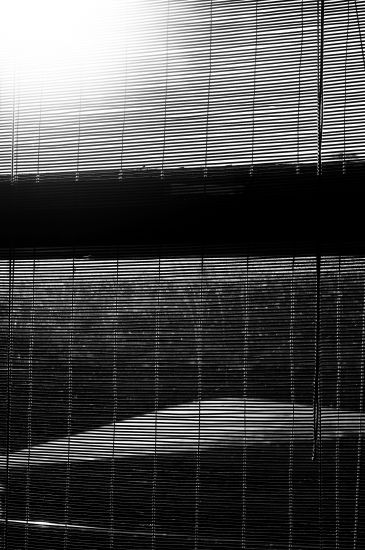 10.10.2012 - Cloudhopping
09.10.2012 - Old friends
This is my good friend. He works very hard. As if he is very young and has all the energy in the world. But this picture tells a different story.
08.10.2012 - Who else?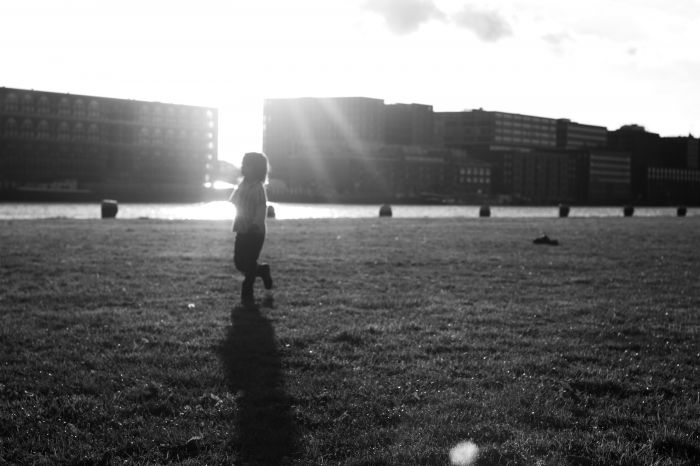 07.10.2012 - When there is time
06.10.2012 - Did I ever tell you...
05.10.2012 - Converting to nothing
04.10.2012 - In time for bed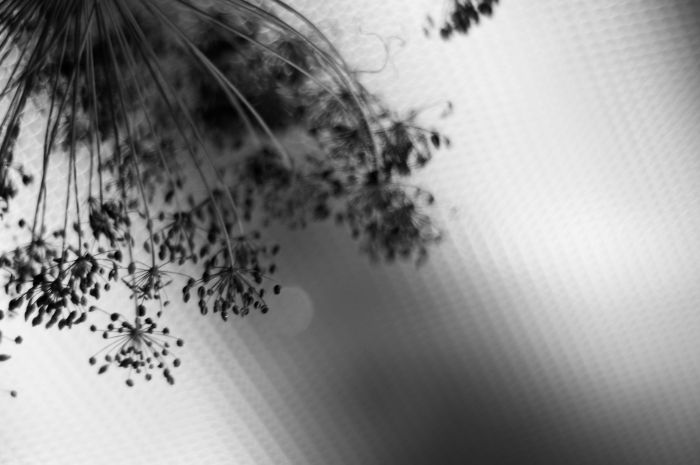 03.10.2012 - Forgotten objects
02.10.2012 - Sobriety
01.10.2012 - Almost home
01
02
03
04
05
06
07
08
09
10
11
12
2006
01
02
03
04
05
06
07
08
09
10
11
12
2007
01
02
03
04
05
06
07
08
09
10
11
12
2008
01
02
03
04
05
06
07
08
09
10
11
12
2009
01
02
03
04
05
06
07
08
09
10
11
12
2010
01
02
03
04
05
06
07
08
09
10
11
12
2011
01
02
03
04
05
06
07
08
09
10
11
12
2015
01
02
03
04
05
06
07
08
09
10
11
12
2016
01
02
03
04
05
06
07
08
09
10
11
12
2017
01
02
03
04
05
06
07
08
09
10
11
12
2018
01
02
03
04
05
06
07
08
09
10
11
12
2019
01
02
03
04
05
06
07
08
09
10
11
12
2020
01
02
03
04
05
06
07
08
09
10
11
12
2021